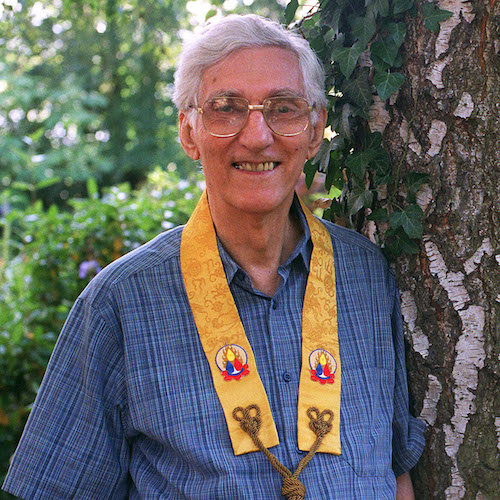 Dear sangha friends
Last week we learned of the death of our teacher Sangharakshita on Tuesday 30thOctober. It has been a sad week as we take in the loss and grief felt by members of the Triratna community throughout the world, and as we appreciate what we have been given.
This Thursdays Sangha night, the 8th November, we will celebrate Sangharakshita's life, his teachings and the Triratna Buddhist Community that he established. We will take time to reflect on all we have been given as a result of his work and inspiration including our connection with the Dharma and our sangha here in Leeds.
Please join us for an evening of gratitude and remembrance. There will be a meditation followed by a short talk and the opportunity to offer your own thoughts and recollections, bringing Sangharakshita to mind and reflecting on how his teachings have affected us. If you are not able to attend but would like to send in your thoughts to share you can email these to Uddyotani at the Centre.
Sangharakshita's vigil and funeral
There is a vigil taking place at Adhisthana through the week and the opportunity for anyone go and view Bhante's body. We don't have any plans to go as a group from the Leeds Centre but individuals are welcome to go by themselves and full details can be found here https://thebuddhistcentre.com/viewing-bhantes-body.
The funeral is to take place on Saturday 10th October between 12.30 and 4pm at Adhisthana. Everyone is welcome and some of us from Leeds are going to pay our respects. For anyone wanting to attend full details can be found herehttps://thebuddhistcentre.com/sangharakshita/vigil-and-funeral-information. If you are planning to go and can offer a lift to others please contact the Centre, and also if you would like a lift. We will do our best to match people up.
There will be a day event at Leeds Buddhist Centre so those people remaining in Leeds have the chance to gather together and mark the event. This will begin at 10am with meditation followed by early lunch and the main event will be the funeral which we hope to stream live from Adhisthana. The day will finish at 5pm– the funeral itself is between 12.30 and 4pm and but we are aware it could go beyond this time so please arrange transport for after 5pm so not to disturb the event.
We hope that whatever your connection with Sangharakshita and Triratna, whether you are new to Buddhism or a long standing sangha member, you feel welcome to join us at the Centre at this time.
With metta
Uddyotani