Flash Mob
Thursday 24th July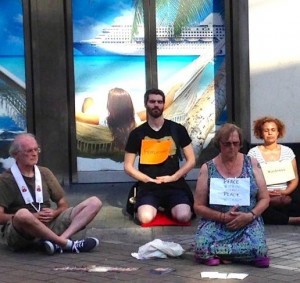 It was a sunny, late afternoon. Briggate was busy with lots of people shopping or on their way home. Then, out of the blue, eight people simply sat down opposite Marks & Spencer and started to meditate. The effect was immediate. People stopped and stared. Some were clearly interested in what we were doing, others, perhaps, a little challenged by the sight of eight people sitting calmly on the pavement with their eyes closed. A good number took leaflets about our courses and drop-in sessions. One woman came across and thanked us for what we were doing: 'I can feel it', she said. Another man said 'God Bless' as he passed by, and a young woman promised to turn up at the following week's drop-in class.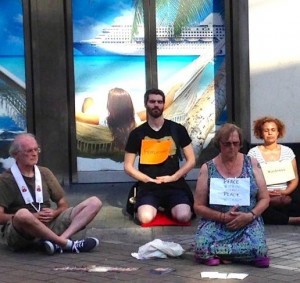 Sitting in a busy street felt better than most of us thought it would – and it was very interesting too. Lots of different sounds. Lots of activity around us. But it felt safe and, although we hadn't planned this in advance, most of us meditated for a full hour.
If nothing else we created a bit of a stir with our stillness and we certainly raised the profile of our Centre and of meditation as a means for positive change. It felt good to take the Dharma out into the world and, hopefully, to encourage a few people to reconsider their own hectic lifestyles. So it felt like a great thing to do – and we shall be doing it again. Contact the Centre for details.
Maybe you'd like to join us next time?