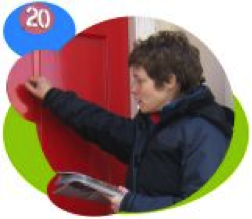 The Karuna Trust has been initiating social work and Dharma projects amongst some of India's poorest and most disadvantaged communities since 1980. Most of £1.5 million p.a. that funds this work is donated by thousands of individuals across the UK who were introduced to Karuna on their doorsteps by volunteers from the Triratna Buddhist Community. This form of fundraising, where fundraisers meet prospective regular donors face-to-face, was pioneered by Karuna in 1982. Since then Karuna has been developing such fundraising as a context for engaged Buddhist practice.
"Karuna door-to-door appeals are a very effective spiritual practice. Over the years I have seen many people change significantly as a result of taking part in them. I would therefore urge all those who have our work in India at heart to support Karuna in this way. " Urgyen Sanghrakshita.
Karuna offers three unique ways to engage in Fundraising as Spiritual Practice:
Door-to-Door Appeals
Volunteer fundraisers come together for 6-weeks to live, fundraise and practice together. Appeals are based around the UK.
Telephone Campaigns (men and women)
These campaigns are based in the Karuna office at the North London Buddhist Centre and involve calling existing Karuna supporters.
Solo door-to-door fundraising as a livelihood
If you have fundraised before consider fundraising for Karuna as your livelihood in your hometown.
To find out more contact Nisha or Bodhketu on 0207 700 3434 or email appeals@karuna.org
Visit Karuna's website for more information about our work in India.