Newcomers' Night – Tuesday Evenings 7.00 to 9.15pm
Finding a better way to live our lives with meditation and Buddhism. Over the course of the next ten weeks we'll be exploring the Buddha's Threefold Path of Meditation, Ethics and Truth. This week we'll be learning how to meditate using the breath as an anchor and looking at some of the mental distractions that can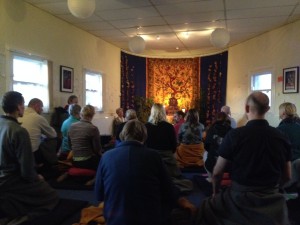 get in the way.
Everyone – new or experienced – is welcome
Younger Sangha Evening – This Friday 22nd Jan from 7.00 to 9.15pm
If you are aged between 18 and 39 and are familiar with the Mindfulness of Breathing and Metta Bhavana (Loving-Kindness) Meditations then you are very welcome to join us. (From February this event will be held on the first and third Fridays of each month)
A UNIQUE opportunity to take participate in a
LEEDS SANGHA PUJA  on Friday 29th January 7.00pm to 8.30pm
Led by Sagarabala. Please arrive promptly. Doors open from 6.30pm
This puja is based on the format of the traditional 7 fold puja but each section has been rewritten in their own words by members of your sangha. It is a very moving experience to hear how each of them expresses their connection with the puja.
A puja is a ritual expressed in poetic language which we speak in call and response . It will include chanted mantras, this is the only part which is not in English and an opportunity to make offerings to the shrine if you wish. The evening will begin with a short explanatory talk , followed by an opportunity to learn/practice the mantras. Then there will be a short period of meditation, the puja and another short period of meditation.
Do come and join us whether you have experienced a puja before or not. Puja can sometimes access a part of ourselves not available through meditation or study. Why not give it a try?  You can participate as much or a little as you feel comfortable with .
All classes are run on a 'dana' (generosity) basis, so there is no charge and you are welcome to come regardless of means. However, if you can, we would ask you to be generous and donate whatever you can on the night in order to keep these events open to all. Or alternatively to take out a monthly Standing Order donation.
A Note for Your Diary…
Leeds Buddhist Centre Sangha Retreat Friday 22nd to Sunday 24th April
at the Beamsley Project, near Skipton     www.beamsleyproject.org/
This is a new venue for us and we are still getting all the details together. Watch out for details of how to book.