This is a nice, classic vegetarian curry that can be put together quickly, as long as you have the spices in stock in your kitchen cupboard.
Sarah says, "I keep the red chilli whole in order to provide a mild 'heat'. It's easy to remove once the sauce is hot enough."
Chickpea and potato curry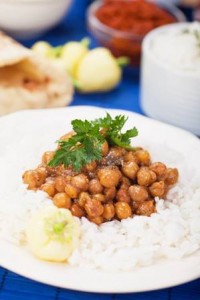 Ingredients
1 large onion, chopped
2 large cloves of garlic, chopped or crushed
2 heaped tablespoons of coarsely grated fresh ginger
1 baking potato, cubed
Oil (olive or sunflower), about 1 or 2 tablespoons
I tin of chickpeas, drained and rinsed
2 heaped teaspoons of ground cumin
2 heaped teaspoons of ground coriander
1 heaped teaspoon of mild curry powder
1 whole red chilli, kept whole and washed
Half a veggie stock cube
Ground black pepper
Fresh coriander, chopped
Method
Sauté the onion for a few minutes in the oil, then add the garlic, ginger and potato and continue to sauté for a few more minutes.
Add the spices and cook another minute or two.
Add enough water to help scrape off any stuck bits from the bottom of the pan and to provide enough sauce.
Add the chickpeas and gently simmer for 10 mins or so and the potato is cooked.
Serve with rice.
Sarah Bedworth