Contemplating skillful action during Buddhist Action Month, Giles was inspired to write the following piece on the enriching practice of rejoicing in merits…
Rejoicing in Merits is a fantastic practice that can enrich both rejoicer and receiver. For me, it has enriched and grounded my metta bhavana practice. In fact, I think the qualities that get shared when a person rejoices in another's merits is even transcendental. And so, I'd like to offer you my insights into this most delightful practice.
'Rejoicing in Merits' is simply voicing the positive qualities of an individual, perhaps on a one-to-one basis, but equally in a group setting. In particular, this takes place during mitra ceremonies and other special occasions.
I began reflecting on this practice last summer when I had the privilege to lead the morning gatherings at Buddhafield North's camping retreat. I led the rejoicingin merits of the longstanding members of the Buddhafield team. It was a lovely experience, and the beautiful atmosphere was real privilege to be a part of.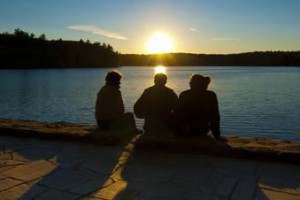 I reasoned that when the qualities of the individual are highlighted, then this leaves them 'glowing'. It's not often that we are shown our qualities in this way, and we often take them for granted, or perhaps we have a tendency to focus on the difficult aspects of ourselves. Rejoicing in merits turns this on it's head and leaves us with a heightened sense of our positive qualities.
The positivity does not stop there, however. The folk listening to the merits of others being rejoiced in get to share the experience too. For example, somebody could be said to be a particularly kind person. As we listen to this, we explore what kindness is within ourselves – we resonate with our own experience of being kind to others. In that moment the quality might be highlighted in someone in particular, but at the same time shared by all. But is that quality owned by anyone? Is this transcendental? Maybe in such moments we can go beyond the state of consciousness concerned solely with an individual.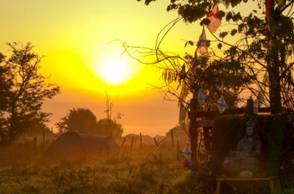 Such reflections have had a positive impact on my practice, particularly in meditation. Over time my metta bhavana practice has changed and developed. For some time, cultivating metta felt like squeezing toothpaste, I could do it for so long but eventually it would run out! Now, it feels richer and less personal, particularly since leading the rejoicing in merits at Buddhafield. It allowed me to find a new way of practicing. I would think about the person, no matter what stage of the practice, and think of one or two positive qualities. There was an immediate sense of positive regard – metta – based on something they do, rather than a wish or just a feeling. I found this bypassed my own feelings of dislike, neutrality or sentimental attachment, and rooted the practice in practical experience. I have found this very useful, grounded and productive.
So, maybe the practice of rejoicing in merits is something to cultivate, as an aid to our metta bahavana practice and also as something that can help to reinforce the positivity within our community.
With Metta, Giles