Rimpoche first spotted a yellow-robed Sangharakshita from a distance in 1949, exclaiming to his attendant 'Look! The Dharma has gone as far as the West!' 
On the façade of a school in northern India, two deer are depicted holding the Buddha's Wheel of Truth. The motto of the school is 'Cherish the Doctrine – Live United – Radiate Love'. This was the message of the school's founder – Dhardo Rimpoche – who was born in Tibet in 1918 and recognised as the thirteenth incarnation of the Dhardo Tulku. He would later move to India and form a strong friendship with Sangharakshita. As the latter emphasised in 1991 during a talk to mark the first anniversary of Dhardo Rimpoche's death, 'Cherish the Doctrine – Live United – Radiate Love' was not just something he said, it was something he lived by. The present month marks the twenty-third anniversary of Dhardo Rimpoche's passing, time then to look back at the life of a unique individual and reflect on the ways he embodied his message.
Cherishing the Doctrine
From an early age, Dhardo Rimpoche devoted himself to studying and practising the Dharma. As a four-year old living at the Nam Chod Gompa monastery in Tibet, he would rise at four o'clock in the morning to memorise and recite lines of verse. Over the course of the next two decades, he acquired a detailed knowledge of the sutras, commentaries and classical texts of Indo-Tibetan Buddhism and was awarded a geshe degree (with distinction) in 1944.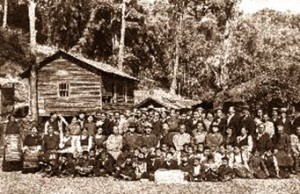 Further studies were cut short by illness in 1947 and Dhardo Rimpoche travelled to northern India seeking medical assistance. He settled in Bodh Gaya and began teaching the Dharma – a role that became increasingly important after the Chinese invasion of Tibet in 1950. Realising that the light of the Dharma might well be extinguished in Tibet and would have to be preserved in exile, Dhardo Rimpoche founded a school in Kalimpong – the Indo-Tibetan Buddhist Cultural Institute – to provide a traditional education for the child refugees pouring into the country.
Living United
Dhardo Rimpoche battled against constant financial difficulties to keep the school open and it is thanks in part to the fundraising efforts of Western Buddhists that the school continues to teach children today. That Buddhists in the East and West have been able to unite in this common cause owes much to Dhardo Rimpoche, for his friendship with Sangharakshita provided an inspiring blueprint for further successful collaborations.
'Look! The Dharma has gone as far as the West!'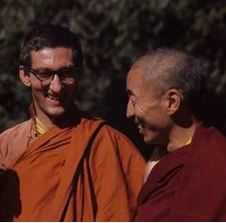 Dhardo Rimpoche first spotted a yellow-robed Sangharakshita from a distance in 1949, exclaiming to his attendant 'Look! The Dharma has gone as far as the West!' In 1952, they finally came face to face and the seeds of friendship were sown. Sangharakshita assisted Dhardo Rimpoche with the running of his school by fundraising, translating, and writing letters, while Dhardo Rimpoche became one of Sangharakshita's teachers.
In 1962, he conducted Sangharakshita's Bodhisattva ordination and gave him a detailed
explanation of the sixty-four precepts he'd pledged to observe. But Dhardo Rimpoche soon found that he could also learn from his pupil. As Suvajra explains:
Before meeting Sangharakshita, Dhardo Rimpoche had been accustomed to teaching in the 'classical' style, seated on a throne while his disciples sat below … While teacher-disciple bonds were usually very strong, Rimpoche commented that it was rare for a lama to develop a close friendship with a pupil. Thus it came as a revelation when he realized that something remarkable had developed between himself and Sangharakshita. They had become intimate friends.
Radiating Love
Sangharakshita has often emphasised his great respect for Dhardo Rimpoche, a man he believed to be a living Bodhisattva: 'I saw how unassuming he was, how kind, and how mindful in everything he did. I saw how helpful he was to visiting Western scholars, how utterly devoted to the welfare of the pupils of his school [and] how patient with his irascible old mother'. Dhardo Rimpoche's capacity to love – that's 'love' in the sense of 'metta' and 'karuna' – was perhaps his most remarkable quality and that which underpinned his tireless work to transmit the Dharma and unite its practitioners. When asked about how his own reincarnation might be recognised Dhardo Rimpoche said, 'The boy must have the same qualities as I have. I don't have ordinary feelings – I have continual compassion for people. Only a boy with those qualities will do'.
Matt McCarthy