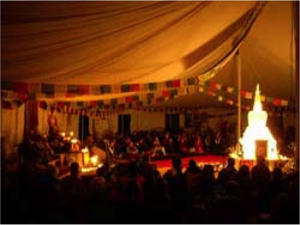 Join the Leeds Sangha members who are going to the BIG Triratna International Retreat – Friday 23rd May to Tuesday 27th May (Bank Holiday)
The International Retreat happens every two years. It's a wonderful long weekend when sangha members from all over the world come together to practice. It's open to everyone (including kids) and is full of great fun, deep practice, and lovely food.
We're hoping that loads of people from Leeds will join us there and enjoy being part of the wider movement that is Triratna.
Wouldn't it be great if there was a whole crowd of us joining in with the hundreds of people from our wider community – meditating, puja-ing, workshopping, listening to talks and storytelling, eating great meals (cooked by the Buddhafield Team) – and generally having great fun!
We're hoping that someone will be organising transport or car sharing soon, but in the meantime, if you think you might go, please drop us a line: enquiries@leedsbuddhistcentre.org
You will find details of the retreat and booking info here: www.triratnainternationalretreat.org