Join us on this Thursday evening, 4th August, to welcome Padmasagara back to Leeds after his 16-week ordination retreat in Spain.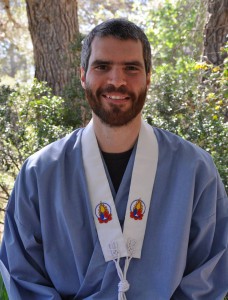 Padmasagara has now joined the Triratna Buddhist Order, his name means Ocean of Lotuses. Triratna is a non-monastic Order – members of the Order are not monks or nuns, and take the title Dharmachari (Dharmacharini  for women), which means Dharma-farer, and are committed to living their lives in accordance with the Buddha's teaching (the Dharma).
Padmasagara will give a talk during the class.
It's an opportunity to welcome him back and to hear a bit about his retreat.
Everybody welcome. Please arrive before 7.00pm.