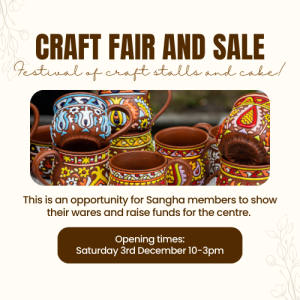 We are holding an indoor winter festival of craft stalls, along with cake and tea, from 10am to 3pm on Sunday 3rd of December.
This is an opportunity for Sangha members to show their wares and raise funds for the centre.
Tables will be £10 each, or a donation of 10% of profits.
Alternatively, if you have any craft items to donate, we will have two tables dedicated to raising funds for the centre.
Come along and have a browse and a cuppa, you may find some amazing! Christmas gifts for family and friends, or even to treat yourself.  My (Bertie's) donations will include the infamous range of sock monkeys, Roald Dahl cushions with books, lavender hearts and various other fabric items, hand-painted children's character pictures,  along with some surprises.
Anyone interested in volunteering to help or wishing to book a stall please contact Bertie at enquiries@leedsbuddhistcentre.org